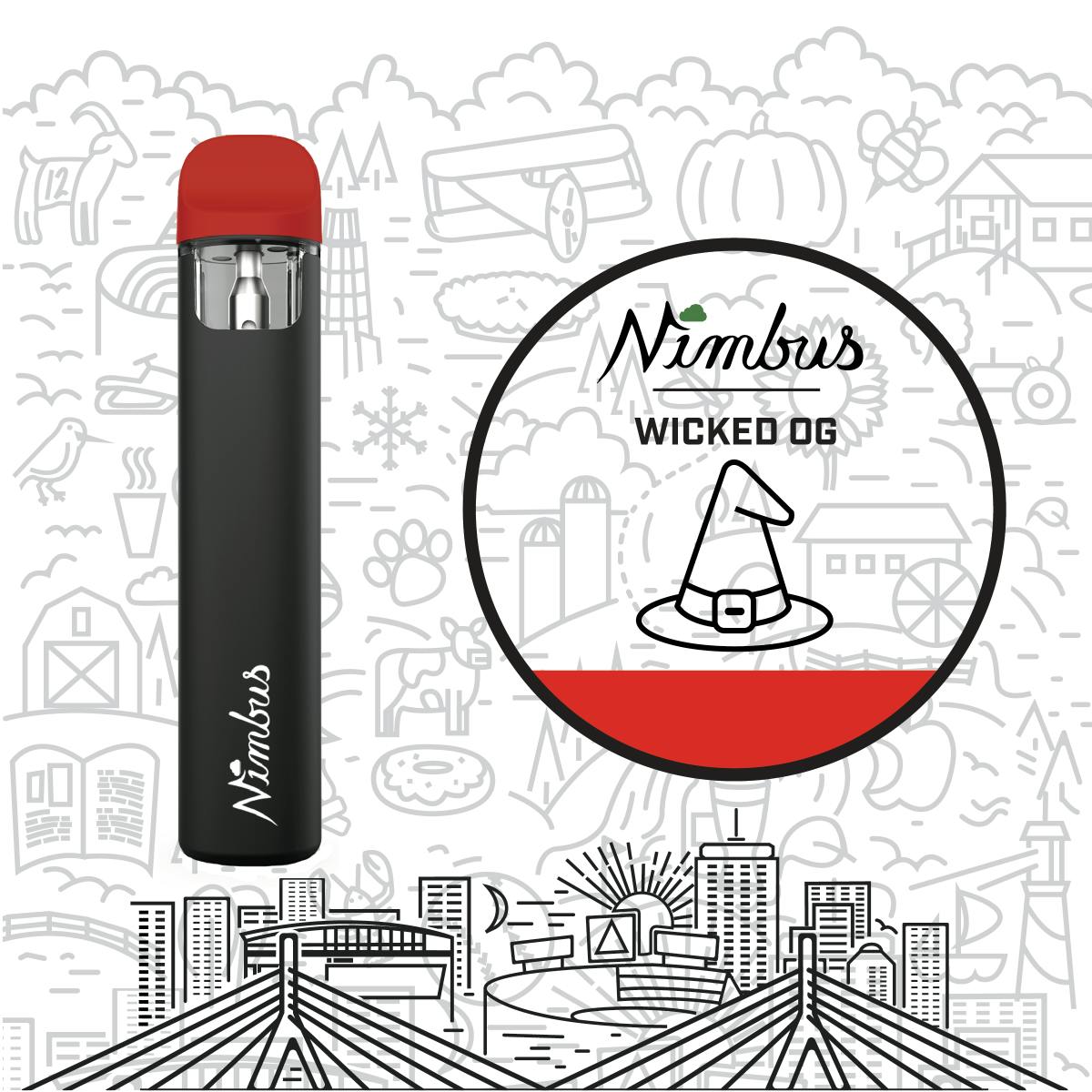 Brand: Nimbus
Wicked OG Disposable Vape | 0.5g
Efficient & Discreet Ceramic Heating Technology ‍Inhale activated for hits you can feel 90-120 hits Tank Size: 0.5mL With the enchanting taste of earthiness and pine, you can reach an uplifted feeling - its wicked good!
Effects
Calm
Energetic
Happy
Relaxed
View Product Testing Data
Myrcene
0%
Myrcene
0%
One of the most common terpenes found in cannabis. Myrcene is known to increase the effects of the psychoactive properties of THC in addition to some of the health benefits found in CBD. Commonly found in parsley, mangoes & hops, Myrcene is a good option for those looking to add a little relaxation to their overall experience.
Aromas
Cloves
Earthy
Musk
Effects
Comfort
Potential Health Benefits
Anti-anxiety
Cancer Fighting
Anti-inflammatory
Sedative
Limonene
0%
Limonene
0%
Limonene is found in citrus rinds and is the second most commonly occurring terpene in nature. This terpene has been used in high dosages as a catalyst in topical products to allow other chemical compounds to pass through the skin for absorption in the blood.
Aromas
Citrus
Lemon
Herbal
Potential Health Benefits
Cancer Fighting
Anti-anxiety
Anti-depression
Stress Relief
Brain Function
Gastrointestinal
Anti-inflammatory
Beta Pinene
0%
Beta Pinene
0%
beta-Pinene is a monoterpene and one of the two isomer compounds that make up Pinene. This terpene is commonly associated with use in turpentine and luxury goods like perfumes and colognes. Users report an increase in mental clarity and executive function when using strains high in beta-Pinene.
Aromas
Woody
Pine
Potential Health Benefits
Brain Function
Cancer Fighting
Pain Relief
Respiratory Function
Beta Caryophyllene
0%
Beta Caryophyllene
0%
Beta-caryophyllene is known for it's wide variety of potential health benefits both physically & mentally. This terpene has a unique ability to bind to the CB2 receptors; CB2 receptors are targeted when treating pain & inflammation with cannabis. Beta-caryophyllene is also approved for use in food by the FDA & is commonly found in black pepper, cinnamon, & basil.
Aromas
Sharp
Spice
Sweet
Wood
Potential Health Benefits
Anti-inflammatory
Gastrointestinal
Cancer Fighting
Anti-depression
Anti-anxiety
Pain Relief
Brain Function
Anti-diabetic
Alpha Pinene
0%
Alpha Pinene
0%
A commonly found terpene in cannabis, Alpha-pinene lends it's name to it's easily recognized signature scent, that of pine trees. Alpha-pinene is already being used in plants to limit the growth of undesired bacteria as it is the most commonly found terpene in nature. Many users report a boost of energy or brain function when consuming a cannabis product high in Alpha-pinene.
Aromas
Pine
Potential Health Benefits
Anti-inflammatory
Brain Function
Respiratory Function
Cancer Fighting
Pain Relief
Anti-anxiety
CBG (Cannabigerol)
2.82%
CBG (Cannabigerol)-2.82%
Cannabinoids are synthesized by Cannabigerolic Acid. CBG is the decarboxylated form of this acid that appears at low levels in most cannabis plants. Because its properties are beneficial to multiple parts of the endocannabinoid system, CBG has a wide range of therapeutic uses. It is non-psychotropic and can provide analgesic and antidepressant qualities.
CBN (Cannabinol)
0.71%
CBN (Cannabinol)-0.71%
CBN is a cannabinoid that is created during the breakdown of THC by UV light and exposure to oxygen. This breakdown usually begins during the drying and curing process. CBN is most commonly found in older or improperly stored cannabis samples. This compound is mildly psychoactive and is best known for its sedative effects. Strains and products with high concentrations of CBN can be a great choice for users looking to utilize cannabis products to ease restlessness and promote healthy sleep.
About the brand :
Nimbus
In late 2018 Brian and Justin discussed the current state of the Massachusetts cannabis market over a beer. They realized the current vapes on the market were made with sub-par oil and hardware, and were potentially putting people of the commonwealth at risk. They soon realized there was a void in the market, a cannabis brand that creates premium products while embracing what it means to be a true New Englander. So they took action. From Brian's experience in Colorado producing vape products, he understood that cutting corners is not only bad business but potentially dangerous to the consumer. They began by creating an extraction process that yielded the purest Cannabis Oil without the use of any unnatural additives. They also wanted to make sure their oil was paired with the highest quality hardware on the market. Through their true New England grit and determination, they created a brand that delivers a Premium Cannabis Experience that people of the commonwealth deserve, Nimbus Vapor Co.