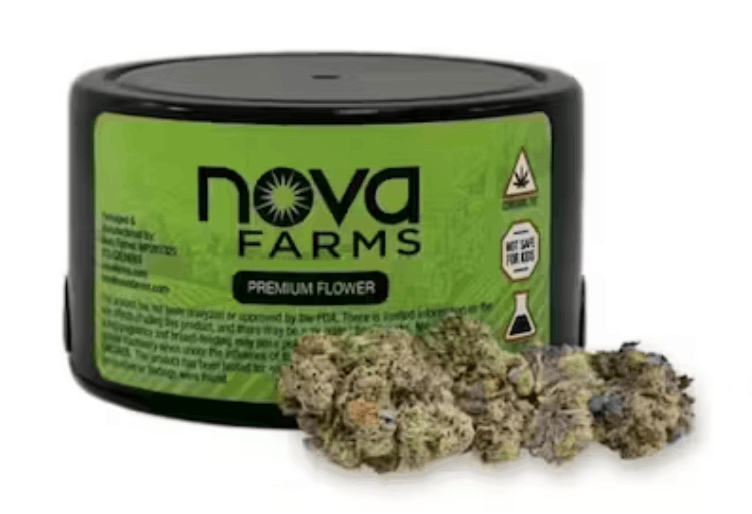 Brand: Nova Farms
Tangie Le Pew 3.5g
Le Pew x Tangie About the parent strains: Le Pew is a cross between GMO X OGKB strains, which creates an Indica Dominant Hybrid strain. Tangie is a sativa marijuana strain made by crossing California Orange and Skunk-1. This strain is a popular choice in Amsterdam and is spreading elsewhere. Tangie is a remake of sorts of the popular version of Tangerine Dream that was sought-after in the 1990s. The citrus heritage of Tangie is the most evident in its refreshing tangerine aroma. Tangie reportedly provides a euphoric yet relaxed effect.
Effects
Happy
Energetic
Creative
Focused
Inspired
View Product Testing Data
THCA (Δ9-tetrahydrocannabinolic acid)
25.24%
THCA (Δ9-tetrahydrocannabinolic acid)-25.24%
THCA is a cannabis compound with a laundry list of potential mental and physical health benefits. THCA is the non-psychoactive precursor to THC, the most famous cannabinoid of all. While THC is responsible for the psychoactive "high" that so many of us enjoy, THCA has shown great promise as an anti-inflammatory, neuroprotectant and anti-emetic for appetite loss and treatment of nausea. THCA is found in its highest levels in living or freshly harvested cannabis samples. For this reason some users choose to juice fresh cannabis leaves and flowers to get as much THCA as possible.
About the brand :
Nova Farms
Deep In Berkshire County, basking within the most fertile land in all of New England, sits Nova Farms. From the perfect seeds to the perfect growing process, our flower is brought to life artfully by our master farmers. Our passionate group of farmers carefully nurture their cannabis using mother nature & New England's most fertile soil. Our flower is of consistently high quality and our massive farm in Sheffield Massachusetts is second to none. This is the way mother nature intended it to be.