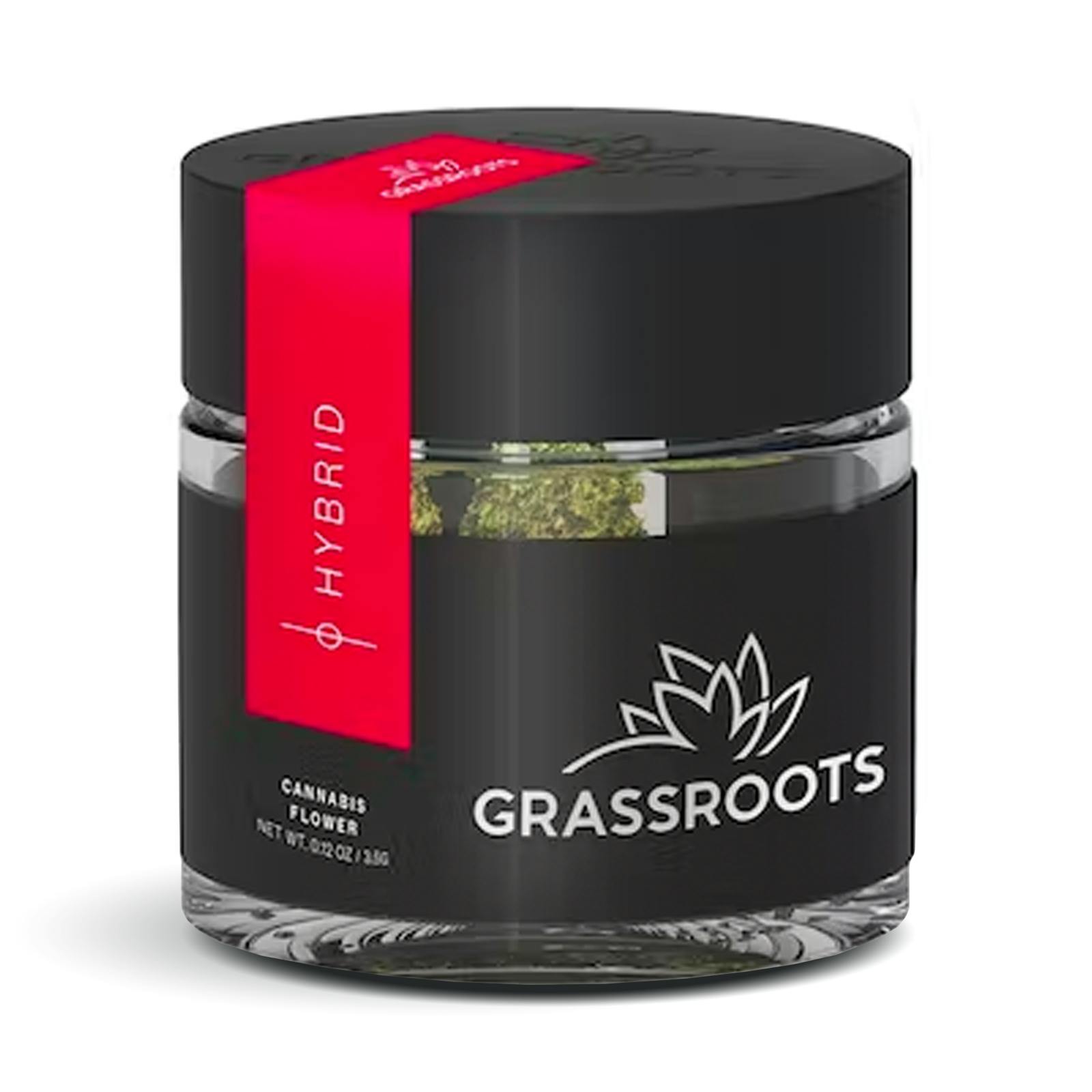 Brand: Grassroots
Milk Bone
High quality hybrid flower from Grassroots! Grassroots is a cannabis company with soul, born in Illinois and growing nationally from the ground up. They're a welcoming community from different backgrounds, rooted together in a common passion: Cannabis inspires them to live deeply.
Effects
Calm
Energetic
Happy
Relaxed
View Product Testing Data
CBG (Cannabigerol)
0.1%
CBG (Cannabigerol)-0.1%
Cannabinoids are synthesized by Cannabigerolic Acid. CBG is the decarboxylated form of this acid that appears at low levels in most cannabis plants. Because its properties are beneficial to multiple parts of the endocannabinoid system, CBG has a wide range of therapeutic uses. It is non-psychotropic and can provide analgesic and antidepressant qualities.
THCA (Δ9-tetrahydrocannabinolic acid)
24.8%
THCA (Δ9-tetrahydrocannabinolic acid)-24.8%
THCA is a cannabis compound with a laundry list of potential mental and physical health benefits. THCA is the non-psychoactive precursor to THC, the most famous cannabinoid of all. While THC is responsible for the psychoactive "high" that so many of us enjoy, THCA has shown great promise as an anti-inflammatory, neuroprotectant and anti-emetic for appetite loss and treatment of nausea. THCA is found in its highest levels in living or freshly harvested cannabis samples. For this reason some users choose to juice fresh cannabis leaves and flowers to get as much THCA as possible.
About the brand :
Grassroots
Grassroots Cannabis is a medical cannabis grower and processor with facilities in Illinois, Maryland, Nevada, Pennsylvania, Ohio, North Dakota, and California. The company's executive management team is composed of a group of highly-skilled business leaders who possess a wide-range of expertise needed to operate a successful safe, secure, and compliant medical cannabis organization. The Grassroots leadership team is dedicated to serve, advance, and respect the movement and to inspire others to do the same. They take great pride in their premium cannabis products that are infused with passion and crafted with care. Grassroots believes success is achieved only when their partners succeed. Grassroots cannabis is dedicated to providing premium and innovative products and strains that match the needs of every patient. At Grassroots they are committed to promoting positive change and providing dignified access to safe and quality medical cannabis nationwide, while giving back to their communities. Being dedicated to spreading accurate and factual knowledge about cannabis is essential to advancing the movement. They strongly believe in their community and the entire world around them and take the necessary steps to inspire others to join the movement. They are here to respect the movement. At Grassroots they are devoted to bringing value to their customers. Their esteemed relationships are a product of their philosophy, "treat others as you want to be treated." They believe in helping and trusting their partners and inspiring others to achieve shared objectives. Grassroots' character and ethics make them a trailblazer in bringing innovative products to the marketplace. They model the right attitude and put forth the effort to motivate others to adopt best practices