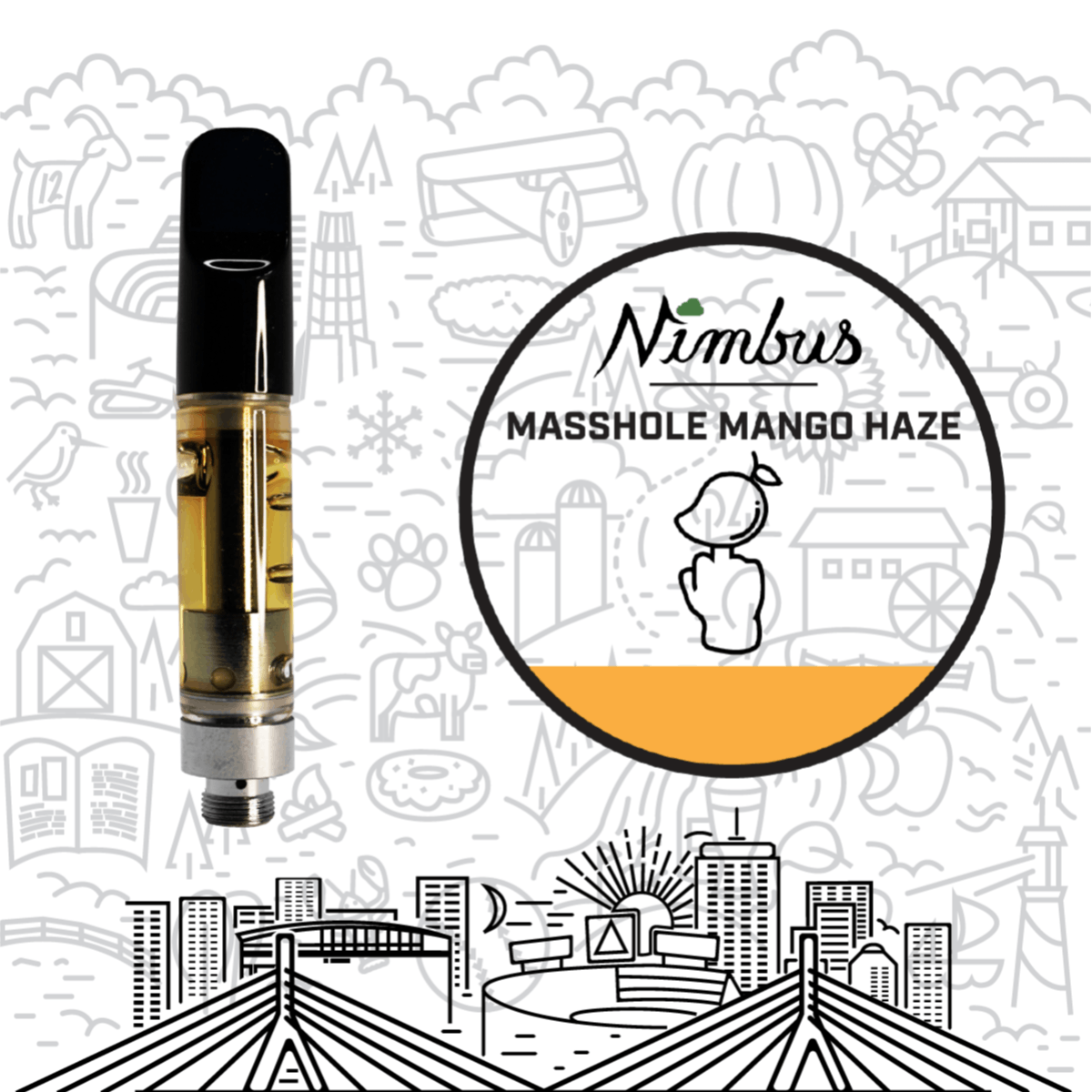 Brand: Nimbus
Masshole Mango Haze Cart.
Cannabis vaporizers are a great way to consume discreetly and consistently. Vape cartridges contain concentrated cannabis oil that is heated by a battery and vaporized for inhalation. These products are very potent and are designed to be consumed in 2-3 second puffs.
Effects
Energetic
Happy
Creative
Focused
Inspired
View Product Testing Data
CBD (Cannabidiol)
0.87%
CBD (Cannabidiol)-0.87%
CBD is the second most prevalent cannabinoid and is primarily produced by hemp plants and at lower amounts in cannabis. It works as a phytocannabinoid, or binding agent, that adheres to an individual's endocannabinoid system. Cannabidiol has soared in popularity due to its lack of psychoactive effects. Most users seek CBD for its medicinal properties since it was the first cannabinoid to be approved by the FDA. Its healing properties include an ability to help you relax, reduce irritability and ease restlessness.
CBG (Cannabigerol)
1.37%
CBG (Cannabigerol)-1.37%
Cannabinoids are synthesized by Cannabigerolic Acid. CBG is the decarboxylated form of this acid that appears at low levels in most cannabis plants. Because its properties are beneficial to multiple parts of the endocannabinoid system, CBG has a wide range of therapeutic uses. It is non-psychotropic and can provide analgesic and antidepressant qualities.
CBN (Cannabinol)
1.48%
CBN (Cannabinol)-1.48%
CBN is a cannabinoid that is created during the breakdown of THC by UV light and exposure to oxygen. This breakdown usually begins during the drying and curing process. CBN is most commonly found in older or improperly stored cannabis samples. This compound is mildly psychoactive and is best known for its sedative effects. Strains and products with high concentrations of CBN can be a great choice for users looking to utilize cannabis products to ease restlessness and promote healthy sleep.
About the brand :
Nimbus
In late 2018 Brian and Justin discussed the current state of the Massachusetts cannabis market over a beer. They realized the current vapes on the market were made with sub-par oil and hardware, and were potentially putting people of the commonwealth at risk. They soon realized there was a void in the market, a cannabis brand that creates premium products while embracing what it means to be a true New Englander. So they took action. From Brian's experience in Colorado producing vape products, he understood that cutting corners is not only bad business but potentially dangerous to the consumer. They began by creating an extraction process that yielded the purest Cannabis Oil without the use of any unnatural additives. They also wanted to make sure their oil was paired with the highest quality hardware on the market. Through their true New England grit and determination, they created a brand that delivers a Premium Cannabis Experience that people of the commonwealth deserve, Nimbus Vapor Co.