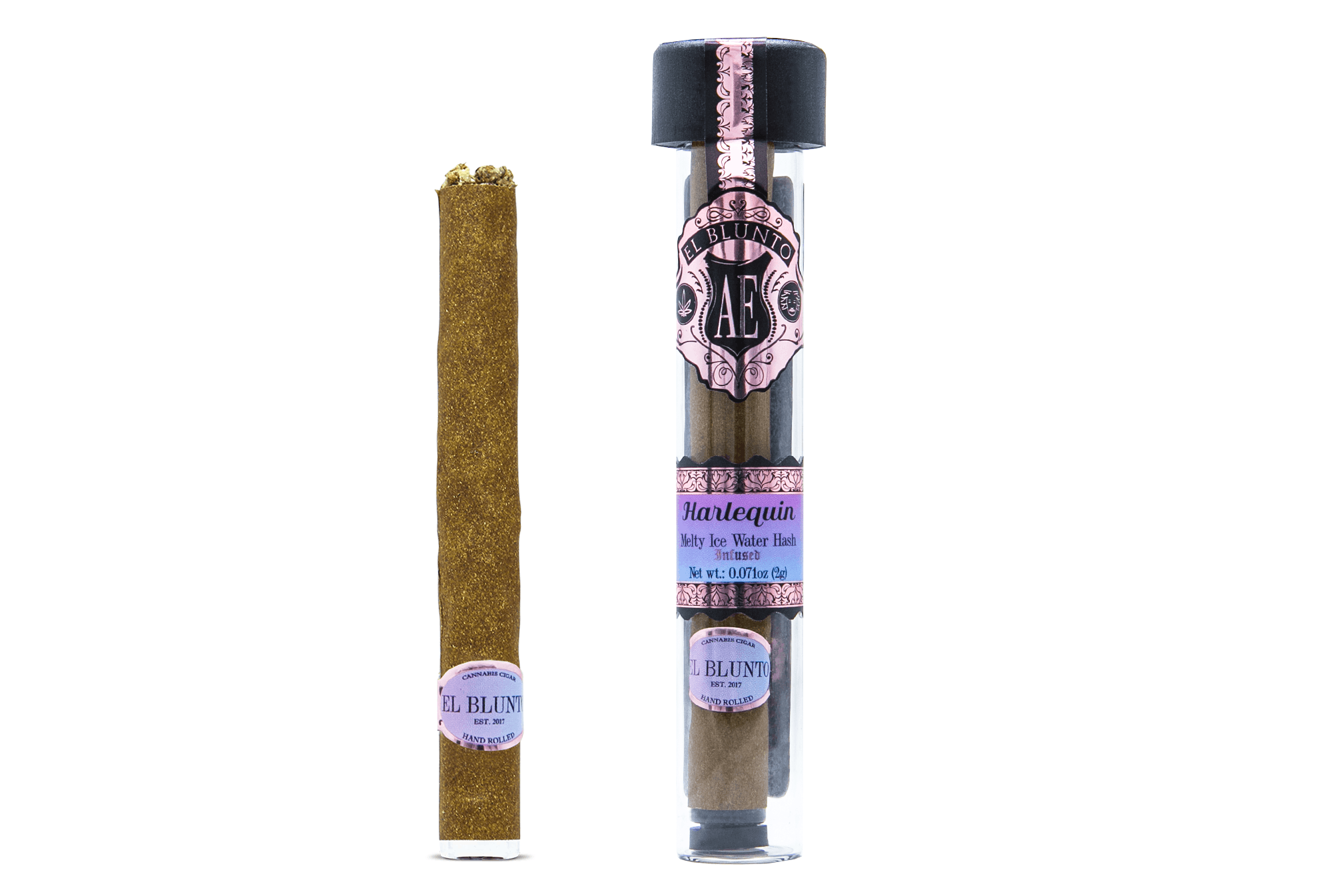 Brand: El Blunto
El Blunto Harlequin Hash Infused Blunt
Genetics: Colombian Gold x Thai x Swiss Landrace | Strain Type: Sativa This strain reportedly provides clear-headed effects and the ability to relax without sedation or intoxication. Harlequin is a descendant of Colombian Gold, a Nepali indica, and Thai and Swiss landrace strains. Harlequin is most effective strains for the treating pain and anxiety, while amplifying its painkilling properties. This strain features flavors that range from earthy musk to sweet mango. Infused with the highest grade of melty ice-water hash ----- Contains 2g of melty ice-water hash infused (.25 grams / 14.5% hash) full flower nugs, broken down by hand (never ground), wrapped in a tobacco-free all-natural hemp wrap, uniquely cured for 72-hours, finished with a custom glass filter tip, and encased in a re-sealable glass tube.
Effects
Creative
Energetic
Focused
Happy
Inspired
View Product Testing Data
CBG (Cannabigerol)
0.37%
CBG (Cannabigerol)-0.37%
Cannabinoids are synthesized by Cannabigerolic Acid. CBG is the decarboxylated form of this acid that appears at low levels in most cannabis plants. Because its properties are beneficial to multiple parts of the endocannabinoid system, CBG has a wide range of therapeutic uses. It is non-psychotropic and can provide analgesic and antidepressant qualities.
CBN (Cannabinol)
0.25%
CBN (Cannabinol)-0.25%
CBN is a cannabinoid that is created during the breakdown of THC by UV light and exposure to oxygen. This breakdown usually begins during the drying and curing process. CBN is most commonly found in older or improperly stored cannabis samples. This compound is mildly psychoactive and is best known for its sedative effects. Strains and products with high concentrations of CBN can be a great choice for users looking to utilize cannabis products to ease restlessness and promote healthy sleep.
THCA (Δ9-tetrahydrocannabinolic acid)
4.78%
THCA (Δ9-tetrahydrocannabinolic acid)-4.78%
THCA is a cannabis compound with a laundry list of potential mental and physical health benefits. THCA is the non-psychoactive precursor to THC, the most famous cannabinoid of all. While THC is responsible for the psychoactive "high" that so many of us enjoy, THCA has shown great promise as an anti-inflammatory, neuroprotectant and anti-emetic for appetite loss and treatment of nausea. THCA is found in its highest levels in living or freshly harvested cannabis samples. For this reason some users choose to juice fresh cannabis leaves and flowers to get as much THCA as possible.
About the brand :
El Blunto
Born from a passion for craftsmanship and quality, El Blunto is an evolution of historic cigar-making tradition. Borrowing age-old techniques from master cigar-rollers, they create products of the highest caliber with the highest level of finishing. El Blunto flower is grown in-house and sourced from other award winning cultivators throughout California. Their state-of-the-art indoor cultivation facility is located in Downtown Los Angeles. El Blunto is owned and operated by Albert Einstone's Cannabis Co. (AE), the California-based distribution, cultivation and manufacturing company that produces, develops and distributes products.